We are passionate about delivering your fresh herbs with TLC (tender, loving, care) from our farms to your plate.
At the farm
The herbs start their life as a little seed on broad acre farms in Queensland and Victoria, Australia. The herbs are cared for, fed and are grown organically by our dedicated group of farmers who are truly passionate about producing fresh herbs that are teaming with essential oils, the key to unlocking flavour, aroma and colourful herbs. Years of research has been invested into finding the optimum conditions and care for each variety of herb. This includes:
Selecting varieties of herbs that deliver the best flavour and balance of essential oils
Understanding what time of the day to plant
Using GPS guided watering and sowing
Harvesting at the optimal time of day for the peak essential oil yield
A focus on healthy soil and sustainable organic growing techniques
A full understanding of optimal crop quality
Ensuring protected post-harvest storage until it gets to the facility
Our Farmers
Our farmers are the backbone of Gourmet Garden. The majority of our herbs are grown in Biloela, in central Queensland, which has the optimal growing conditions for green leafy herbs. Some of the other crops, like garlic, are grown in the cooler climates of Victoria. Come meet some of them…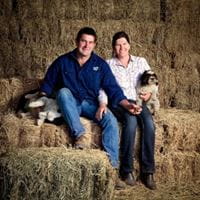 Paul & Kim Stringer
Paul and Kim, along with one full time employee, have farmed many acres in Biloela, a region of northern Queensland in Australia. Paul is the second generation of Stringers to have farmed this land, being responsible for the crops for the last 20 years. Their crops include parsley, cilantro, dill, basil, marjoram, oregano, lemongrass, mint, chives and spring onions.
Paul loves to oversee the crops being watered and takes special satisfaction when they are thriving in the open field. Kim's favourite Gourmet Garden variety is the Thai Seasoning, she loves a good stir fry.
Paul designed and manufactured the harvester that is used to pick herbs with minimal damage. He even used the machine to mow a field of herbs with a marriage proposal to Kim (who was hundreds of feet above in an airplane).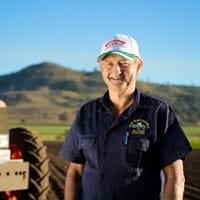 Trevor Goos
Trevor is a 3rd generation farmer, who began farming his thousand-acre property in the early 1970's. Originally growing corn and chickpeas, Trevor diversified into herbs in the mid-late 1990's to supply Gourmet Garden.
He especially likes growing herbs for their water efficiency. His wife, Joyce, loves cooking with Gourmet Garden, adding parsley into mashed potatoes and using them for quick dips and dressings.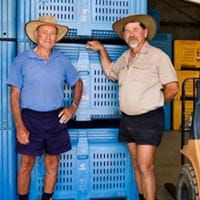 Frank & Ron Mastroieni
Frank, born in Biloela to parents who were farmers, purchased his farm in 1952 when he was just 21. He diversified the farm, which originally operated as a dairy farm, into growing fruit and vegetables and finally, herbs. Frank operates the farm alongside his son, Ron. They grow 11 different herbs including basil, cilantro, thyme, dill, parsley, rosemary and mint.
He enjoys the autonomy of farming and takes pride in nurturing the herbs. He laments that the biggest hurdle has been custom designing the machinery needed to harvest such delicate crops. Frank's favourite herb to use in cooking is basil.
At the herb prepping facility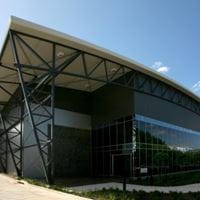 Your herbs are delivered on temperature-controlled vehicles to our facility in Palmwoods on the Sunshine Coast of Australia within 8 hours of leaving the farm. From there, the herbs and spices are washed, chopped and prepped within 18 hours of harvesting though patented processes which are designed to lock in the natural essential oils to maximize the fresh flavour and aroma of the herbs.
Quality is of utmost importance and our facility is accredited by a number of third-party quality auditing agencies to ensure your herbs are of the top quality and safe.
Consideration for the environment and sustainability is very important to us and this is reflected in the design of our facility. The building has the largest of its kind refrigerator, which is 50% more energy efficient than a typical refrigeration plant. Rain water is harvested from the roof top, stored in four rain water tanks and used for both the fire protection and within the facility. The green belt surrounding the back of the site, equipped with walkway and some 8,000 native trees, was gifted to the community.
Into supermarkets
From the Palmwoods facility, we sell herbs throughout North America and Australia as well as supermarkets worldwide. Our dedicated merchandisers, distributors and supermarket partners work closely to ensure consumers can have access to herbs and spices regardless of the season. Check out our store locator and find us in the fresh produce section near you, next to the fresh herbs.
To your plate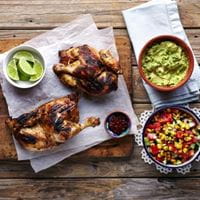 We all love the flavour of fresh herbs, they truly make a difference to any meal. But when we're busy, let's be honest, fresh herbs and spices aren't always practical. Look at the countless bunches of wilted herbs you throw out after only a few days and we all know pungent smell of garlic fingers!
The great thing about Gourmet Garden is they STAY FRESH FOR WEEKS so you can have an herb garden at your fingertips every day. With your fridge stocked with herbs, you easy transform pizzas or pasta with a generous sprinkle of our new lightly dried basil. Or you can punch up stir fries and soups with a squeeze of garlic stir-in paste.