Some meals, you're all about it. The intricate layers of flavor, laundry list of ingredients, and special techniques that will ultimately lead to a masterpiece. And then there's the nights where you "just can't" with cooking. Enter Gourmet Garden
lightly dried herbs
and
pastes
, bursting with flavor for easy and convenient everyday meal inspiration. With more than 15 varieties to choose from, it's like having a personal herb garden for cooking, plating food, and garnishing right at your fingertips!
Gourmet Garden lightly dried herbs and pastes have everything to do with fresh flavor - and nothing to do with fuss. Garlic without garlicky fingers. Ginger sans peeling and chopping. Cilantro that lasts up to four weeks in the fridge! All pre-washed, pre-chopped, and no wilt guilt. (Yes, this is us telling you they stay fresher longer and are easier to store than fresh cut herbs.)
GARNISH YOUR MEALS WITH GOURMET GARDEN LIGHTLY DRIED HERBS
For a quick shortcut while you're plating food or meals, reach for Gourmet Garden. A sprinkle of Lightly Dried Basil over pasta or pizza, or Lightly Dried Chives on top of an omelet elevates the look and flavor of your dishes effortlessly. And don't forget Taco Tuesday! Lightly Dried Cilantro is a must-have at the make-your-own taco bar. Our lightly dried herbs make the perfect garnishes for food, dialing up the flavor and visual appeal, with minimal waste. Pre-washed and pre-chopped, Lightly Dried Basil, Parsley, Chives, Cilantro, and Ginger are ready to help you up your plating game at a moment's notice.
COOKING YOUR MEALS WITH GOURMET GARFDEN LIGHTLY DRIED HERBS
With flavors like basil, parsley, chives, cilantro and ginger, there's no limit to the easy meals and side dishes you can create and garnish with Gourmet Garden Lightly Dried Herbs.
Homemade chicken noodle soup is labor of love. But with a little help from Gourmet Garden you can shortcut your way to fresh, herb-forward flavor. Reach for Gourmet Garden Lightly Dried Parsley to give this comforting meal a flavor boost – it's pre-washed, pre-chopped and lasts up to four weeks refrigerated – plenty of opportunity to reduce waste and use dried parsley to fuel future meal inspiration!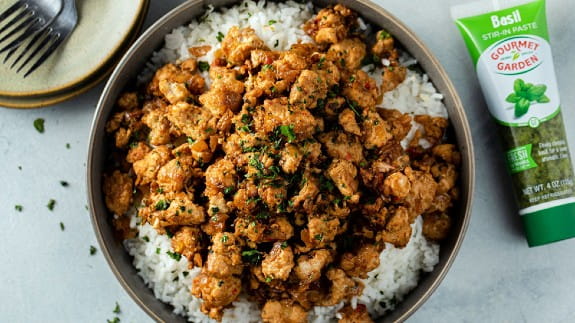 Skip the carryout and recreate this inspired take on the Thai favorite in less than 30 minutes. Made with a host of Gourmet Garden Stir-In Pastes, it's the generous sprinkle of Gourmet Garden Lightly Dried Basil garnish (no washing or chopping – that part's already done!) that makes this dish a feast for both the eyes and mouth.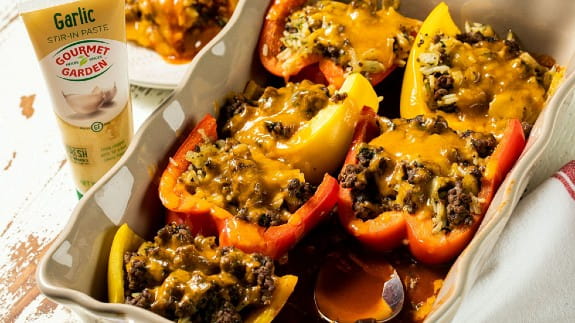 Classic stuffed peppers – with an enchilada twist! Filled with the usual suspects like ground beef, rice and cheese, this version is topped with a bold enchilada sauce that takes this easy weeknight meal over the top. Gourmet Garden Lightly Dried Cilantro is added right into the mixture and sprinkled as a finishing garnish for a simple shortcut (no waste, no fuss!) to memorable flavor.
DISCOVER GOURMET GARDEN STIR-IN PASTES
With flavors like basil, chunky garlic, ginger, parsley, lemongrass and Thai, there's no limit to the easy meals and side dishes you can create with Gourmet Garden Stir-In Pastes. Each tube is full of fresh, memorable flavor, pre-washed, pre-peeled and pre-chopped.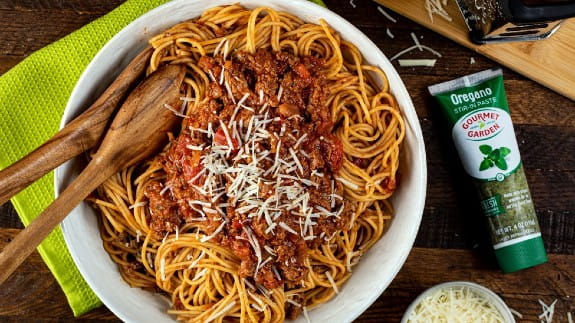 Give your Sunday Sauce tradition a major flavor upgrade – we're talking absolutely no store-bought, jarred pasta sauce here. But instead, a rich, flavorful homemade tomato Bolognese made extra-delicious with the signature taste of Gourmet Garden Basil Stir-In Paste. Easy to squeeze from the tube to your dish, it puts pre-washed, pre-chopped basil leaves right at your fingertips for instant flavor.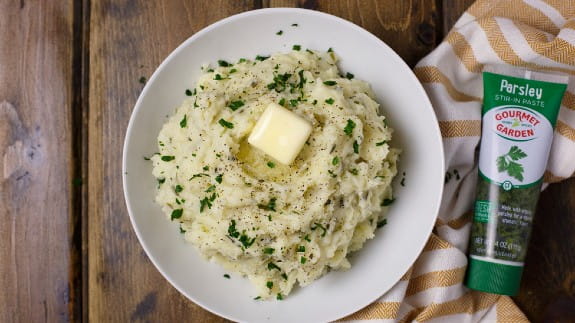 Enjoy silky, rich mashed potatoes any night of the week with a quick burst of flavor from Gourmet Garden. Garlic Stir-In and Parsley Stir-In Pastes infuse potatoes with fresh, herby flavor, without any hassle. Simply squeeze a tablespoon of each into the dish and mix well before serving.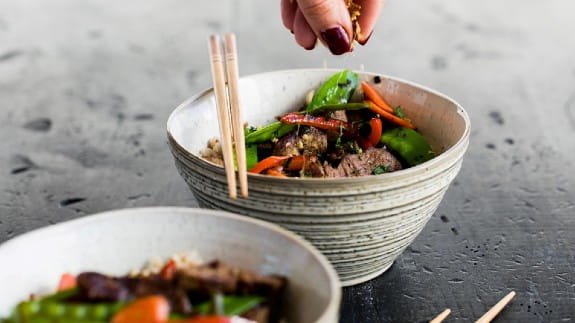 Short on time? This beef stir-fry will be your saving grace. Packed with colorful vegetables and thinly sliced flank steak, the warm, spiced flavor of Gourmet Garden Ginger Stir-In Paste comes together with honey and soy sauce to create Asian-inspired flavor that tastes just as good (if not better!) than your favorite take-out version of this meal. And, it's ready and on the table in just 30 minutes. Garnish with Gently Dried Chives for an extra-special plating.
Feeling inspired? Look for the full line of Gourmet Garden Lightly Dried Herbs and Stir-In Pastes in the refrigerated produce section at your favorite grocer. Or find what you're looking for right here and put fresh, convenient flavor at your fingertips while discovering our favorite recipes here.